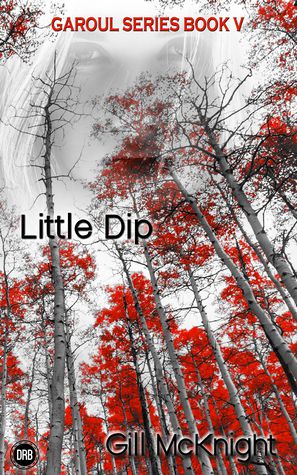 Little Dip - Garoul series Book 5 -
By Gill McKnight
The beginning
I have not read any other book in the Garoul Series and will so be reviewing this book as a stand-alone while trying to give it context.
Cant it be read as a stand alone? Yes. Does it thrive as a stand-alone? Not according to my standards.
Little Dip is a prequel so it can be an entry point into the series. The plot is set in the 70's so, from my understanding, about one generation before the rest of the Garoul book.
I was expecting more supernatural stuff plot wise. Like an all-out werewolf war or prophecy quest or even an OMG!-Leprechauns-exist kind of book. At its core, Little Dip was more a metaphor for inter-ethnic romance (with major cultural differences between the two worlds) than the paranormal mystery that I was expecting. Just to be clear - there is both romance and mystery in this opus. However, the romance aspect is more prominent than I would have expected - or loved - in this genre.
On more than one occasion I felt that some story arcs were not used to the maximum of it's potential and it left me hungry for more - that did not came. I am guessing that all those thing are already answered in other book of the series, but for a first time read it was incomplete.

In my opinion while a new reader can follow and enjoy Little Dip, they can not fully appreciate it. I would strongly advise you to start with Book One. That being said, if you are a fan of romance and are not sure if a paranormal/supernatural story is something you like please start with Book 5. It might be the incentive you need to broaden your horizon.
The Garoul Series seems very interesting and I looking forward to reading the rest of the books.
ARC Review