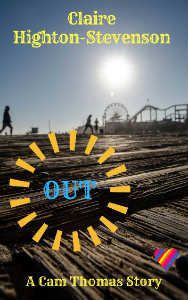 OUT
A story about luck
The character of Michelle charmed me. Their is something so true about her, about her doubts and her fragility, she is almost the incarnation of every awakening not-straight person. OUT is definitely a love story, after a beginning worthy of the most unrealistic romcom the rest of the story found its groove and was a delight to read. Many characters are interesting I would of love to read more about Maria - the maid- she seems so deserving of more screentime.
The writing style is good and easy to read - sans the first couple of page that were very british for a French Canadian like me. It is a good introduction book for a series that I suppose (with the introduction of story arcs) will deal with overcoming betrayal, learning to be true to yourself, homophobia, etc.
Out in the first book of the Camryn Series and I suspect that Next ( the second book) will be more diverse plot-wise and used some of the introduce and drop story arcs.
I recommend this book for any romance lovers.