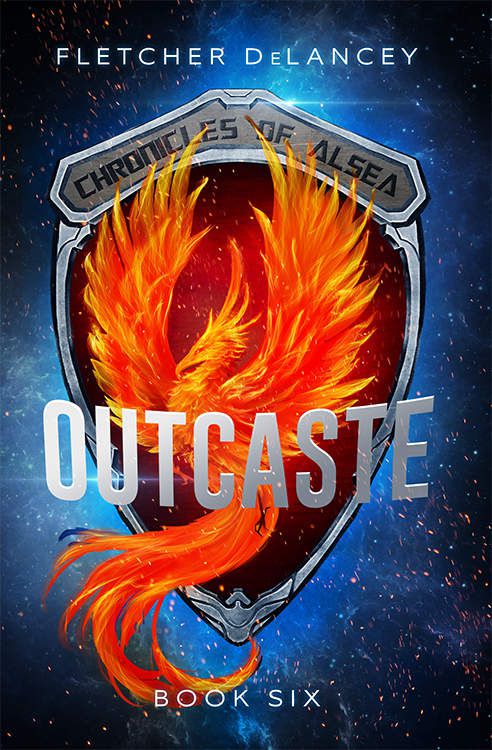 Outcaste
By Fletcher DeLancey
The road to hell is paved with good intentions
I was eager and anxious to read the new Chronicles of Alsea - a series dear to my heart. I can't say that it is my favorite. I can't even say that I loved it. I like it, that is a given. I will read it again - that is also a given.
Fletcher's writing is better in this opus, more accomplished - the storytelling has improved in many aspects. The character development - one of the mainstrengths of the series - is even better in this book. It is the most accomplished story in this respect Rahel is a complex and rich character that many, if not all, will love - or learn to love. I just can't. Personal reasons are making it impossible for me to like her. I understand and respect her path. It's hard to love a book when you can't stand the main character.
Up until chapter 33, I kept asking myself what the shek? Is this even the same series? Is this a new series set in the same universe? And then something happens in the plot, and I understood what the author wanted to do. It is clever, a good way to keep the series going and stay interesting. For me Outcaste is a bit like Without a Front: The Producer's challenge, it is a necessity for the development of the adventure, just not the best part. It does not mean it is not essential.
Don't be fooled, this book is an emotional rollercoaster. Some will argue that Catalyst is more painful to read. I would say Outcaste is harder. While Catalyst makes you sweat and worry, your main feeling is anger toward certain characters, in Outcaste it is the futility of life, and the despair that will follow you no matter how hard you try.
I will advise anyone with depression or suicidal tendency to avoid this book, as long as they are not stronger emotionally. It is an intense experience.
For all Alsea lovers, I would say, read it. It is good and trust Fletcher - the things you like about the series are not forgotten, they just appear later in the story,
For the new readers that stumble across that book and aren't too sure if you want to commit to 5 other books before reading this one, start with book 6. The essence of what you miss is recapped in it. (It can be also useful if you have not read the books for a little while, but you might want to skip some sections if you are very familiar with Alsea). When you fall under Alsea's charms, go back and re-read the first 5 books, your experience will only be enriched by it.
In conclusion, it is a good book that is totally worth paying for, just not my favorite of the series. That being said, it did leave me very hopeful for Uprising.


Get your copy : getBook.at/outcaste